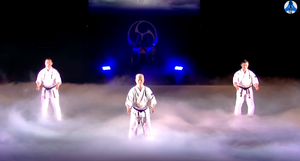 The full video of Kaicho Royama, Kancho Okazaki and Kokusai Honbucho Koyama performing the Tensho Kata before the Kancho Inauguration Ceremony.

There are 2 videos you will be able to download, one with and one without English subtitles.

Please do not copy, reproduce, distribute, publish, modify, create derivative works, or distribute any part of this content, sell or offer it for sale without permission.

© Kyokushinkan 極真館 2022.

We reserve the right to take legal action for any illegal reproduction of this video.